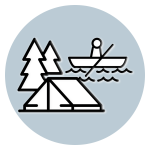 About
Department Head: Jeremy Ludlum, Director
Williams County has many great parks to visit and explore! The Parks Department and the County Park Board are responsible for managing Lookout Park, the Blacktail Dam Golf Course, and the campsites at Blacktail Dam, Epping/Springbrook Dam, Kota Ray Dam, Little Egypt, and McGregor Dam.
Lake Reminders!
Know It. Avoid It. Report It.
Summer is almost here, and so is the algae. Some of our lakes, like those at Epping/Springbrook Dam and Blacktail Dam, are prone to harmful algae blooms (HABs).
What does it look like?  Blue-green algae can look like a crust on the water, grass clippings, green cottage cheese, scum or like spilled green paint or green pea soup.
What should you do if you see it? In areas where the water is discolored or where you see foam, scum or mats of green or blue-green algae on the water, DO NOT swim, water ski, or boat; or let pets swim in or drink from affected waters. If you or your pet accidentally swims in water that might have a cyanobacteria bloom, rinse off with fresh water as soon as possible. Do not irrigate lawns with pond or lake water that looks scummy or has an awful odor.
How can you report it? Reports should be made to the DEQ so they can investigate further. Visit www.tinyurl.com/WMP-HABs for more information about HABs or to report a bloom.