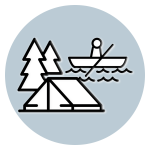 About

Director: Jeremy Ludlum

Williams County has many great parks to visit and explore! The Parks Department and the County Park Board are responsible for managing Lookout Park, the Blacktail Dam Golf Course, and the campsites at Blacktail Dam, Epping/Springbrook Dam, Kota Ray Dam, Little Egypt, and McGregor Dam.

Off-Season Camping

As of 9/30/2021, water has been shut off at Little Egypt. Water will be shut off at the Blacktail Fish Cleaning Station no later than October 15th.
Electrical will remain on at all campsites with electrical hookups.
Between Nov 1st and April 1st, all campgrounds will remain open to camping, road and weather conditions permitting.
Parks Master Plan

Williams County is formulating a Park System Master Plan to establish a long-range vision for what the future park system should look like to meet the recreational needs of the community. It is an action plan meant to guide future investments based on a list of strategic goals, policies and priorities for improvements, development, redevelopment, and acquisitions in alignment with available resources.

The Park System Master Plan will provide the necessary framework for Williams County to implement strategic improvements that will be of greatest benefit to the community and will identify future funding necessary to improve the system in terms of infrastructure, staffing, operations and maintenance.

Williams County Parks is including various methods of community engagement during the study to identify current needs, issues and ideas for the future.

Thanks to everyone that completed the survey! Concept plans will be brought back to the community for feedback in order to determine a preferred approach. The final Master Plan will be released in fall of 2021.