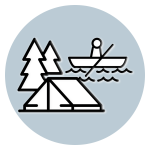 Campsites will open for reservations on March 1, 2023.
About
Department Head: Jeremy Ludlum, Director
Williams County has many great parks to visit and explore! The Parks Department and the County Park Board are responsible for managing Lookout Park, the Blacktail Dam Golf Course, and the campsites at Blacktail Dam, Epping/Springbrook Dam, Kota Ray Dam, Little Egypt, and McGregor Dam.