About
The County Auditor serves as the election administrator for primary, general and special county, state, and federal elections. These are normally held every two years on even years.
Current Election Information
Primary Election: June 14, 2022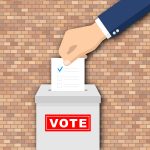 General Election: November 8, 2022
 Polling locations will be open from 8 am to 7 pm CT on June 14th. Any qualified voter in Williams County may vote at either polling location:
Williston Area Recreation Center (ARC): 822 18th St E, Williston, ND
Tioga Community Center: 510 6th St NE, Tioga, ND
Important Dates - Primary Election
May 5 beginning at 8 am
First day to receive absentee ballot at counter
ExpressVote will be available to those in need in the lobby of the Williams County Administration Building (206 E Broadway in Williston)
May 31
If you have submitted an absentee ballot application, but have not yet received a ballot by May 31st, please contact the Auditor's Office
June 6
Final mailing of ballots to those who have applied
 June 11 from 9 am to 12 pm
Extended hours to obtain an absentee ballot from the Auditor's Office counter!
June 13 by 5 pm:
Last day to apply for absentee ballot at the counter
Last day to return an absentee ballot at the counter or the secure ballot drop box
Last day that ExpressVote will be available in the lobby
If mailing your absentee ballot, your return envelope must be postmarked no later than June 13th
If you are unable to meet this deadline then you will have to go to your appropriate polling place on Election Day to cast your ballot
Voter Qualifications
North Dakota does not have voter registration. To be eligible to vote in North Dakota, a voter must be:
A citizen of the United States;
Eighteen years or older on the day of election;
A resident of North Dakota; and

A resident who has resided in the precinct at least thirty days immediately preceding any election; and
Able to provide a valid form of identification such as a North Dakota driver's license, nondriver ID, or tribal ID that includes your current residential address and date of birth. If your address is not current, you can update it online. If an individual's valid form of identification does not include all the information required in 16.1-01-04.1(2) of the North Dakota Century Code, or the information is not current, the identification must be supplemented by presenting any of the documents as outlined in section 16.1-01-04.1(3)(b) of the NDCC. Additionally, North Dakota residents living outside of the United States may provide their passport as a valid form of identification.
Absentee Ballots
Absentee Ballot Applications are only valid from January 1st to December 31st each year. You MUST re-apply each year to be able to vote absentee in an election. If you have already applied for a 2022 absentee ballot, you do not need to apply again. If you are unsure, please contact the Auditor's Office at 701-577-4500. 
Completing your Application
Where can I complete an application?
Applications can be completed online, by requesting an application from the Auditor's Office, or in person at the Auditor's Office.
What do I need to know when completing the application?
When completing the application, be sure to indicate the election(s) you would like a ballot for. If you choose "All Statewide Elections" then you will receive ballots by mail for both the Primary Election in June as well as the General Election in November AND any special statewide elections. If you choose to mark a different box, you will only receive ballot(s) by mail for the specific election selected.
When completing your application, be sure that your current residential address is up-to-date with the ND DOT Driver's License office. You can do this online on the Driver's License Office website. If you move between the June 14th and November 8th elections, you must complete a new application.
If you are a North Dakota resident living outside the United States and do not possess one of the other forms of identification, you may use a Passport or Military ID.
NDCC § 16.1-07-06 states:
A copy of supplemental documentation, if necessary, can be used when applying for an absentee/mail ballot.
Incomplete applications will be returned to the applicant for completion and resubmission.
Can I obtain a ballot for someone else?
An individual can obtain an absentee ballot for up to three individuals in addition to their own ballot by using the Agent Absentee Ballot Application. Additionally, an applicant living with a disability that prevents the individual from traveling away from the individual's home to obtain an acceptable form of identification may use an attester. The attester must provide his or her name, North Dakota driver's license, nondriver's, or tribal identification number, and sign the absentee/mail ballot application form to attest to the applicant's North Dakota residency and voting eligibility.
Submitting your Application
Return your application to the Auditor's Office by mail, fax, email, or in-person. If you have applied for a ballot, but have not received one by May 31st, please contact the Auditor's Office. Ballots will not be mailed after June 6; if you wish to vote absentee after this date, you will need to apply for, and receive, a ballot at the Auditor's Office.
Submitting your Absentee Ballot
Where/How to Submit
Deadline
By mail
Must be postmarked no later than June 13th. If you arrive at the Post Office to mail it ON June 13th, you must ask for it to be "hand cancelled"
Secure Drop Box

Near the south entrance of the Williams County Admin Building (206 E Broadway, Williston, ND)
Tioga City Hall (12 1st St NE Tioga, ND)
Trenton Indian Service Area (TISA) Trenton, ND
Ray City Hall (101 Main St, Ray, ND)
Grenora City Hall (1 Main Street Grenora, ND)

June 13 by 5 pm CT
Auditor's Office counter
June 13 by 5 pm
Express Vote
June 13 by 5 pm
If you are unable to return your ballot by these deadlines then you will have to go to your appropriate polling place on Election Day to cast your ballot in person.
Running for Office
The Auditor's Office also provides and collects the paperwork necessary for running for County Office. Click below for more information about running for a Williams County office or running for another type of office.