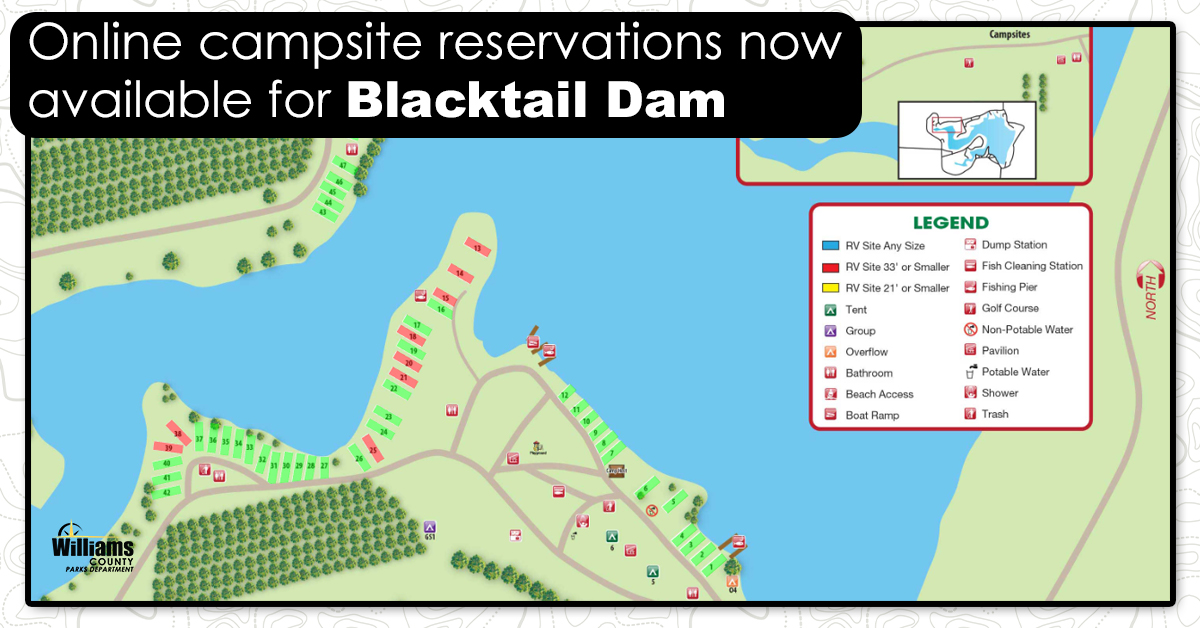 FOR IMMEDIATE RELEASE
June 15, 2022
For more information, contact:
Lindsey Harriman
Williams County Communications Department
Phone: 701-577-4557 (office)
lindseyh@co.williams.nd.us
Williams County Parks launches online reservations for campsites at Blacktail Dam; Kota Ray Dam and Epping/Springbrook Dam coming soon
Williston, N.D., (June 15, 2022) – Following the release of an online reservation system for campsites at Little Egypt, the Williams County Parks Department has now also made the system available for campsites at Blacktail Dam. The system will be available for campsites at Epping/Springbrook Dam and Kota Ray Dam by June 17, 2022.
Cash or check will still be accepted day of, but now campers will have the option to reserve a site in advance, or day of, online and pay with credit card. A limit for how far in advance a site can be reserved will not be in place for this year only.
Camping fees remain the same as previous years: $10 per night for primitive sites and $15 per night for sites with electricity. A $3 service fee is applied to each online reservation.
For more information, visit https://www.williamsnd.com/departments/parks/
###