Williams County Burn Restriction
The Williams County Burn Restriction is in effect beginning July 31, 2023, through December 31, 2023, when the North Dakota Rangeland Fire Danger Rating is Very High or Extreme and/or a Red Flag Warning has been issued by the National Weather Service for Williams County.
The Burn Restriction includes the ignition of fireworks, burning of leaves, grass clippings, garbage/pits, construction debris, fallen trees, crop residue or hay land, sloughs, and campfires/bonfires/recreation fire.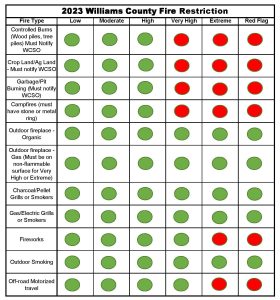 Additionally, when the Fire Danger Rating is Extreme and/or a Red Flag Warning has been issued, unnecessary off-road motorized travel is not allowed.
The use of controlled devices is allowed if they are located on a hard, non-organic surface at least 15 feet away from vegetation and a fire extinguisher or water is available on-site. Controlled devices include items such as gas, charcoal, wood-fired/pellet grills, gas patio fireplaces and chimneys, gas camp stoves, and smokers/pellet grills.
Burning will be allowed with a Low or Moderate Fire Danger Rating upon approval of a burn permit issued by the Upper Missouri District Health Unit and once the local fire response authority has approved said burn permit.
Information about exemptions for agricultural burning is provided below.
Step 2: Check Red Flag Warning Map
Red Flag Warnings are issued by the National Weather Service. A Red Flag Warning can be in effect even if the Fire Danger Rating is LOW or MODERATE.
Burn Restriction Exemptions
This exemption has been created for removing leftover standing crops.
Burning will be allowed, despite the Forest Service's rating, only under the following a set of conditions. You must also complete the form below with the Fire Chief for the Fire District in which the burning will take place.
Immediate agricultural necessity - Required to prep cropland for planting.
Must create a fire break prior to starting.
Must have tractor and tillage implement on site.
Must coordinate to have fire suppression readily available.
Winds must be below 15 mph.
Temperature and humidity restrictions.
Hours of burning restrictions set by the fire department.
Trash pits, brush piles, hay bales, pastures would not qualify as they can wait for lower fire danger ratings.
The responding fire department chief or his designated representative is the approving authority.
The requirement remains to notify the local fire department or emergency manager so they can inform 911 dispatch.
Open Burning
No person may conduct, cause or permit the conduct of a salvage operation by open burning, and the burning of refuse and other combustible material by open burning is generally restricted. However, there are some categories of permissible open burning; some of these are as follows:
Fires for the instruction and training of firefighting personnel
Campfires and other fires for the outdoor preparation of food
Agricultural crop burning
Some of these categories require prior Department approval or notification. Please refer to ND Century Code Section 33.1-15-04-02 for clarification and additional categories.
In order to legally burn any material that is not specifically listed as permissible, an application for an open burning variance must be completed. The application must be signed by the city or rural fire department prior to submittal to the Upper Missouri District Health Unit. Once completed, please return the application to:
Upper Missouri District Health Unit
110 W. Broadway – Suite 101
Williston, ND 58801-6032
701-774-6400
No burning of trade waste or materials that generate hazardous air pollutants such as rubber products (tires), tar paper, asphalt shingles, plastics or treated wood products will be approved. Alternatives to burning must be investigated and the request to burn must be fully justified. Cost of alternative disposal is not sufficient justification by itself. Not all variance applications will be approved.
Regardless of whether or not the burning is permissible under the rules or whether a variance to open burn has been issued, all open burning must comply with all of the conditions contained in Subsection 33.1-15-04.2. Some of these conditions are as follows:
No public nuisance is or will be created
No occupied building may be impacted by air contaminants from the burning
No traffic hazards can be created
The burning must be attended and supervised at all times
Visit the North Dakota Department of Environmental Quality's website for more information about open burning.