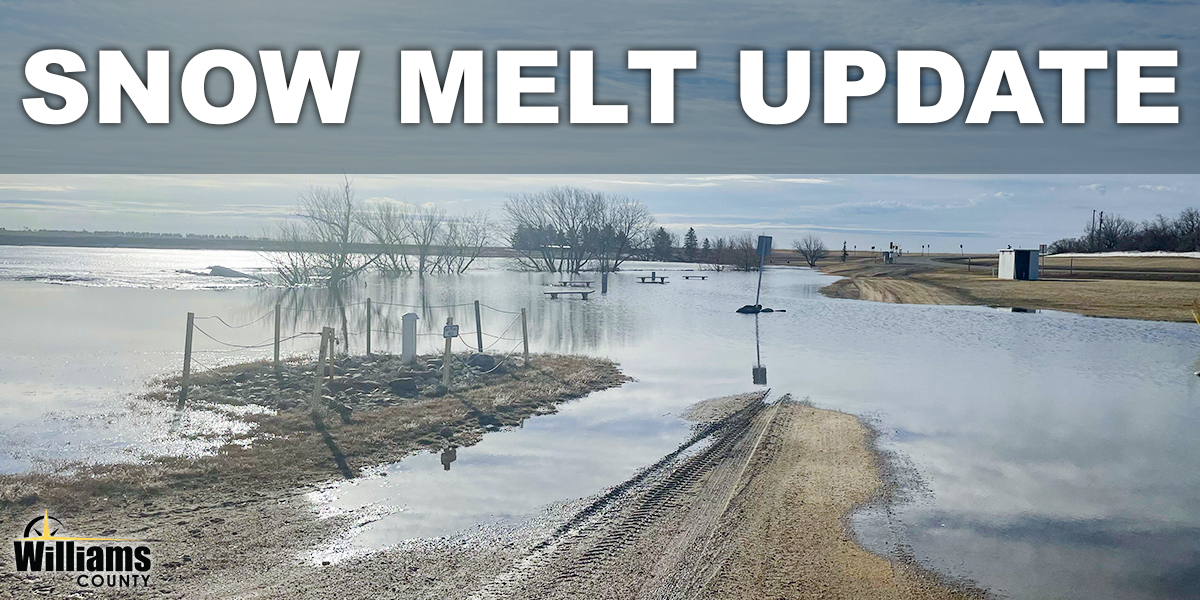 4/21/2023: Effects of the snow melt and associated flooding have subsided. This page will no longer be updated. As always, road closure information can be found on our Road Updates page.
4/13/2023: Due to the recent warm temperatures, snow and ice melt are causing flooding and other issues across Williams County at this time. Any official updates from Williams County regarding the impact of the snow and ice melt will be posted on this page. PLEASE abide by any road blocks or cones and DO NOT drive through any flooded areas. Just 6 inches of rushing water can knock over an adult, 12 inches can carry away most cars, and 2 feet can carry away SUVs and trucks. Turn around, don't drown!
Road Updates
Updates about Williams County and Township road closures are posted on our website and our closures map. If you would like to receive notifications via text or email, please sign up through LoadPass.
County Highway Road Updates website
County Highway Road Closures map
Parks Updates
Visitors are urged to use caution at all of our parks if they encounter muddy or flooded conditions as the snow continues to melt.
4/21/2023 @ 9 am: Little Egypt and Epping/Springbrook Dam are now fully open. Continue to be cautious when traveling in the park as roads may still be soft from recent precipitation. Blacktail Dam water levels have continued to subside and the roads are now navigable.
4/13/2023 @ 4 pm: Little Egypt and Epping/Springbrook Dam remain walk-in access only due to muddy road conditions. Water levels at Blacktail Dam have begun to recede, but please exercise caution if traveling in the lake and park area.
4/12/2023 @ 12 pm: The lake at Blacktail Dam has significantly risen over the past 24 hours, which has resulted in flooding in and around the park area. If traveling to the park, please abide by any cones and road blocks that are in place. Thank you!
4/11/2023: Due to muddy road conditions, the parks at Little Egypt and Epping-Springbrook Dam are walk-in access only until further notice. Our Parks crew is working to get the roads into better shape and hope that the parks will be fully open by the end of the week.
Other Updates
UPDATE 4/18/2023 – The fishing access point on the Little Muddy, south of the Hwy 1804 bridge, is now open.
4/13/2023 @ 11 am: The Army Corps of Engineers have closed the fishing access point on the Little Muddy River, on the south side of the Hwy 1804 bridge. We will provide an update once we receive one from the Corps.
Map