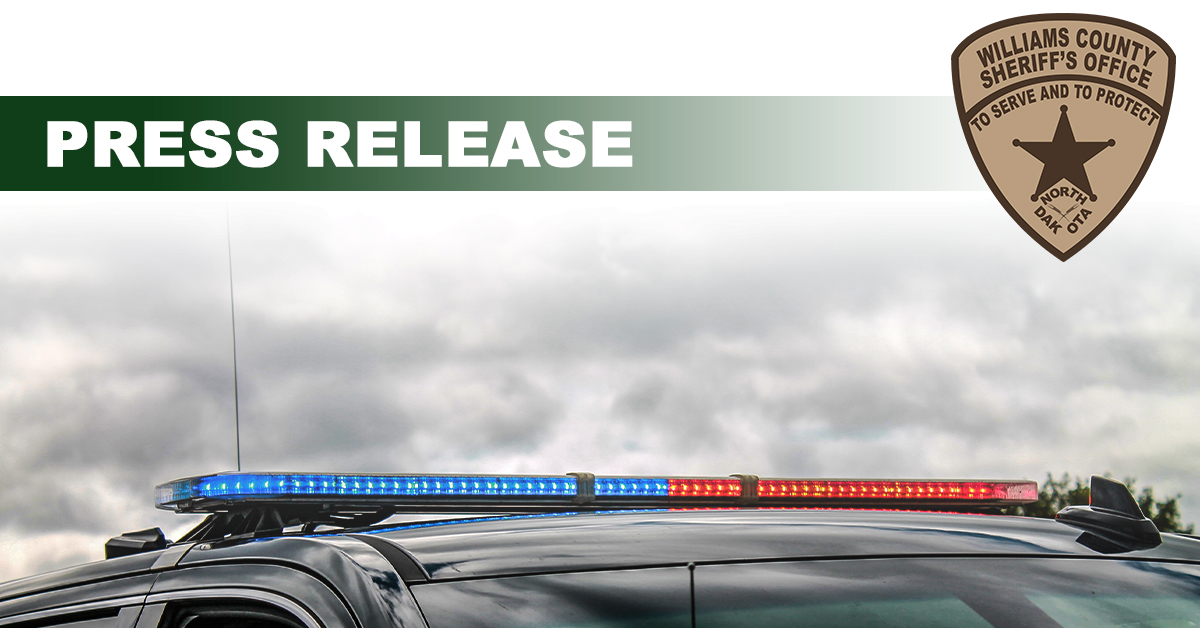 FOR IMMEDIATE RELEASE
March 9, 2023
For more information, contact
Williams County Sheriff's Office
701-577-7700
sheriff@co.williams.nd.us
Williams County Sheriff's Office assists with vehicle pursuit on Hwy 2
WILLISTON, N.D. (March 9, 2023) – At approximately 8:05 am on Thursday, March 9, 2023, the Williston Police Department initiated a traffic stop in Williston. The driver then fled westbound on West Dakota Parkway (Hwy 2). The driver exited city limits and the Williams County Sheriff's Office took over the pursuit near the intersection of James Drive and 140th St NW on the west side of Williston. Deputies continued the pursuit as the driver reverted course and travelled eastbound on Hwy 2. The Williston Police Department deployed a spike strip near the intersection of Hwy 2 and 2nd St W (Bus. Hwy) to attempt to stop the vehicle. The driver continued along Hwy 2 and ultimately crashed at the intersection of Hwy 2 and 26th St, which resulted in multiple additional collisions. No injuries were reported.
The driver fled on foot at the scene of the crash, but was eventually apprehended by law enforcement. The driver has been identified as 32-year-old Tyler Treat and he is currently being held at the Williams County Correctional Center. He has been charged with Driving Under Suspension (B Misdemeanor), Fleeing a Peace Officer in a Motor Vehicle (A Misdemeanor), Leaving the Scene of an Accident Involving Damage to a Motor Vehicle (B Misdemeanor), and Reckless Driving (B Misdemeanor). Additional charges may be pending.
Thank you to the Williston Police Department and North Dakota Highway Patrol for their assistance and collaboration with this incident.
###