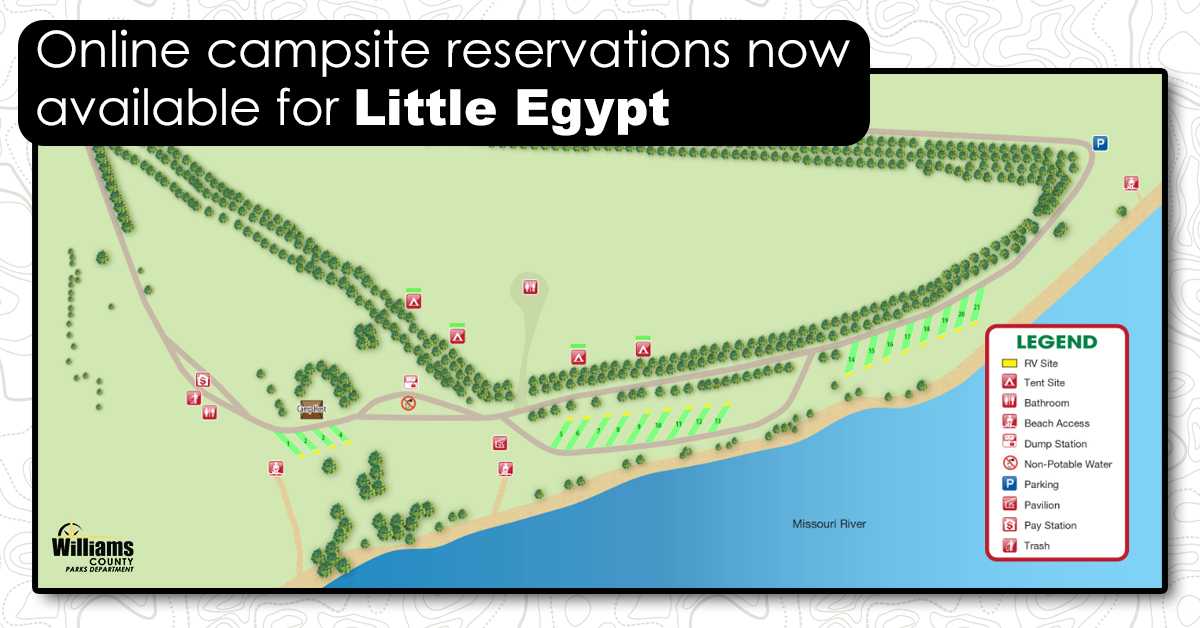 FOR IMMEDIATE RELEASE
May 20, 2022
For more information, contact:
Lindsey Harriman
Williams County Communications Department
Phone: 701-577-4557 (office)
lindseyh@co.williams.nd.us
Williams County Parks launches online reservations for Little Egypt campground
Williston, N.D., (May 20, 2022) – In response to feedback from the public and the Williams County Park Board, the Williams County Parks Department is excited to announce the release of the MySites online campsite reservation platform for Williams County Parks. Beginning May 20, campers will be able to reserve sites at Little Egypt. The ability to make reservations for all other Williams County-managed campgrounds is slated to be available by mid-June.
Currently campsites are first come, first served and campers pay onsite with cash or check. Cash or check will still be accepted day of, but now at Little Egypt campers will have the option to reserve a site in advance, or day of, online and pay with credit card. A limit for how far in advance a site can be reserved will not be in place this year, but is likely for future years.
"By doing a trial release of the reservation site for Little Egypt we will be able to refine our processes a bit and be ready with the rest of the parks by mid-June for campers to prepare for 4th of July weekend" says Parks Director Jeremy Ludlum. "We hope this makes it easier and more enjoyable for everyone to camp in our parks" adds Ludlum.
Camping fees remain the same as previous years: $10 per night for primitive sites and $15 per night for sites with electricity. A $3 service fee is applied to each online reservation.
To make a reservation, visit the Little Egypt webpage. More information about reservations is available on the Reservations FAQ page.
###