FOR IMMEDIATE RELEASE
March 13, 2023
For more information, contact
Williams County Sheriff's Office
701-577-7700
sheriff@co.williams.nd.us
Williams County Sheriff's Office continues investigating missing person case from nearly a decade ago
WILLISTON, N.D. (March 13, 2023) – Williams County Sheriff's Office Detectives are hopeful that advances in technology and an increase in the number of outlets for information sharing will uncover new information that could be useful for locating José Christopher Lee, who went by "Joe," who was initially reported missing on June 2, 2013.
Joe had borrowed a vehicle from an acquaintance in Williston on June 1, 2013 and was expected to return it on June 2, 2013. The vehicle was found abandoned on June 3, 2013 on the side of the road on County Road 6, near Epping-Springbrook Dam. Joe's cellphone was found inside of the vehicle. South of the road, near Stony Creek, personal items were located that are thought to have been Joe's. Law enforcement conducted a thorough investigation, using cadaver dogs, an airplane, sonar, and rescue divers to search the area.
Here's what we know:
His birth date is October 23, 1968.
He is approximately 5'9" and 210 pounds with hazel eyes and black hair. He has tattoos on the back of his left shoulder and on both arms.
When Joe borrowed the vehicle, he was with an individual known as "Skeeter," who was wearing a cowboy hat.
At the time of his disappearance, he did not have a permanent residence and was employed as a cook at Big Willie's.
He has ties to family and friends in Arizona and Tennessee.
The public is asked to contact Sergeant Detective Caleb Fry at 701-577-7700 with any information about Joe, whether it is about his past or his whereabouts today. Anonymous tips can be sent by texting NDWILLIAMS with your tip to 847411.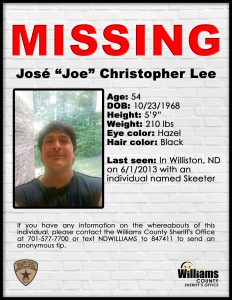 ###