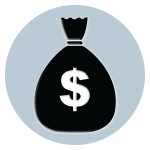 About
Department Head: Patti Ogurchak, Treasurer/Recorder
The Williams County Treasurer's Office collects real estate property taxes, mobile home taxes, receives all revenue coming into the County, and invests county funds. The Office is also a Passport Acceptance Facility.
Property Tax Statements
2023 Property Tax Statements have been mailed and are available online! If you have not received yours by December 22nd, please contact the Treasurer's Office at 701-577-4530, online via webform, or stop in.
Due to an error with how our contracted printing company mailed 2021 property tax statements, property owners of two or more parcels may receive their property tax statements in several batches. A summary page of all statements will be delivered with one of the batches. If you are unsure if you have received all of the tax statements for your parcels, please call the Treasurer's Office at 701-577-4530 or visit our online Tax Portal to view and/or pay all of your statements online. We apologize for any inconvenience this may have caused.