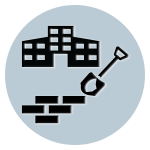 About
Department Head: Kameron Hymer, Director
The Development Services Department is responsible for enhancing the quality of life in Williams County by providing effective, safe, sustainable development while protecting our natural resources. We are committed to excellent community and customer service through the creation of partnerships and timely and effective management of development and compliance processes. The department is advised by the Williams County Planning & Zoning Commission.
The Building Division is responsible for issuing building permits, conducting fire inspections, and assigning addresses for property located outside of a city's jurisdiction in Williams County.
The Planning & Zoning Division is responsible for regulating land uses and subdivisions in the unincorporated areas of Williams County.