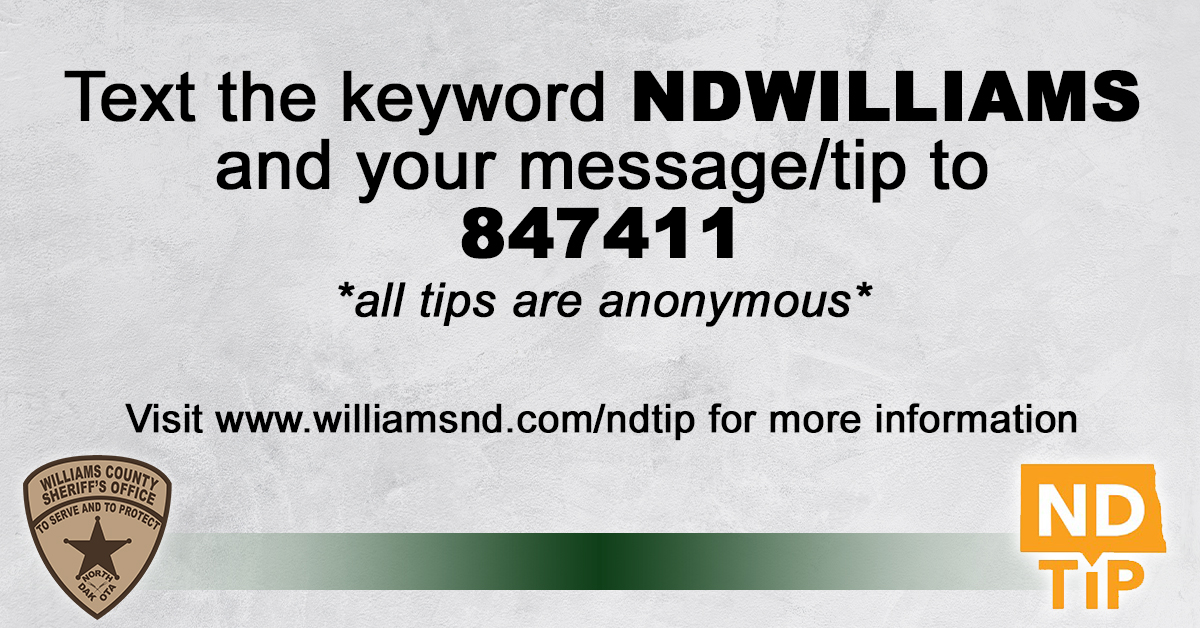 FOR IMMEDIATE RELEASE
April 29, 2021
For more information, contact:
Williams County Sheriff's Office
701-577-7700
sheriff@co.williams.nd.us
Williams County Sheriff's Office launches NDTip, an anonymous tip platform
Williston, N.D, (April 29, 2021) – In partnership with the North Dakota Department of Human Services and the North Dakota Sheriff's and Deputies Association, the Williams County Sheriff's Office is proud to announce its participation in a new anonymous tip system to connect citizens with law enforcement.
NDTip allows anyone with a cell phone to provide an anonymous tip via text about crimes, substance misuse, suspicious activity, or non-emergency traffic concerns. Citizens can also submit anonymous tips through the NDTip mobile app or through a web form available on the Williams County website. Through NDTip, citizens are also able to engage in a two-way anonymous conversation with law enforcement.
Many communities across North Dakota currently use NDTip, which allows them to work closely with law enforcement agencies across multiple jurisdictions to share information and expand the reach of this new anonymous tip system.
"NDTip allows a safe and secure way for the citizens of Williams County to share important information with law enforcement without the fear of retribution" says Sheriff Verlan Kvande.
Visit www.williamsnd.com/NDTip for more information about how to submit a tip.