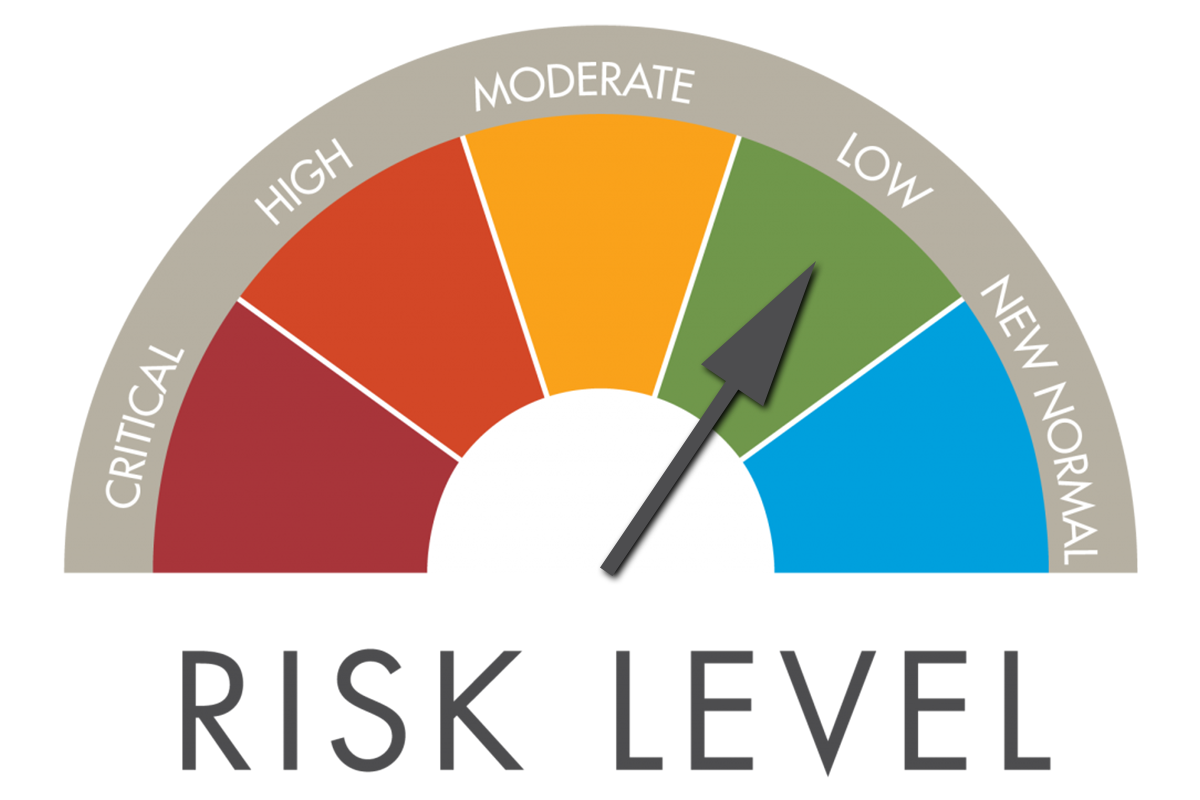 Current COVID-19 Risk Level for Williams County: Green/Low

Green/Low Risk for exposure or transmission, low case counts are reported, public health and private health care are able to safely diagnose, treat, and isolate COVID-19 cases and their contacts. During this level, businesses can reopen, and much of normal life can begin to resume. However, physical distancing measures and limitations on gatherings will still be recommended to prevent transmission from accelerating again. For older adults (those over age 65), those with underlying health conditions, and other populations at heightened risk from COVID-19, continuing to limit time in the community will be important. State and community leaders should prepare health alerts, communicate risk and symptoms, review plans, prepare for public health capacity if needed for spikes in cases.

A low/green risk level increases the recommended occupancy limit for bars, restaurants and other foodservice establishments from 65 percent of licensed facility capacity up to 200 patrons, and to 80 percent of licensed facility capacity up to 300 patrons, with social distancing. Face coverings should be strongly recommended or required. Banquet, ballrooms and event venues are recommended at 75 percent of room capacity, not to exceed the ND Smart Restart capacity limits.

The risk level is set by Governor Burgum's office. More information, including specific information about what each level means, can be found in the ND Smart Restart Guidelines.

The North Dakota Department Health is the agency responsible for tracking and disseminating case information. For information and access to data, please visit their COVID-19 Dashboard.
Williams County Buildings

Masks are highly recommended when visiting a Williams County building or interacting with County employees and social distancing is not possible. 

On March 31, 2020, Williams County Commission Chairman Steve Kemp signed a public health emergency declaration for Williams County in response to the ongoing local, national, and global COVID-19 situation. The declaration is in effect until the emergency is determined to have ended. By declaring a local state of emergency, additional financial resources can be expended from the County's emergency reserve fund as needed and the County will have increased flexibility for obtaining and securing resources to respond to COVID-19.

Williston DMV Registration Branch Office

All services from the Williston DMV are available by appointment. Appointments can be scheduled online at the ND Department of Transportation's website. Appointments for Passport Services can be made by calling the DMV directly at 701-713-3410 or request one online.

Williams County Sheriff's Office

Effective Friday, March 13th at 5:30 pm, the Williams County Correctional Center has suspended all volunteer activity and programming until further notice. Onsite visitation is closed, but video visitation is possible via HomeWAV.

Any call to the Sheriff's Office that is determined to be a non-emergency will be handled via phone or email. In the event that face-to-face contact between a Deputy and the public is required, they may ask the individual(s) additional questions about their travel history and/or any respiratory symptoms (e.g. fever, cough, shortness of breath, or sore throat) they may be experiencing

Public Meetings

Please check the Calendar for the most up-to-date information for physical and virtual meeting information.

More Information and Updates

For more information and updates, please follow Williams County on the following Facebook pages:
Williams County  
Williams County/Williston Emergency Management
Williams County Sheriff's Office
NDSU Extension - Williams County
NDSU Extension - Williams County 4-H
Resources for COVID-19

Centers for Disease Control and Prevention (CDC) Website Facebook

North Dakota Department of Health
Website
Facebook

For questions related to COVID-19, the public can call the NDDoH health hotline at 1-866-207-2880 from 8 am to 5 pm, Monday through Saturday.  Individuals who need medical advice should contact their health care provider.

Upper Missouri District Health Unit (UMDHU)
Website
Facebook
COVID-19 Quick Links

Guidance for Townships
Please visit the ND Township Officers Association "Hot Topics" website for more information.

Testing Events

Expanding testing plays a major role in keeping North Dakota open. In addition to social distancing, mask wearing and washing your hands frequently, testing is a proven, effective way to combat the spread of COVID-19. 

Find a list of testing locations here

. 

Identifying positive cases of COVID-19 early is the only way to quickly trace and isolate.